This little one was so adorable at her 6 month newborn session!  She was all giggles and laughs! I love this sweet 360 view of this precious baby! 
She was here for her newborn session and you can see some of her newborn portraits on this link: http://www.dianebartoo.com/blog/riverside-pregnancy-newborn-and-family-photography/precious-newborn-photos-riverside-ca
I love when I get to see these sweet babies grow! Stay tuned for her 9 month "Watch Me Grow" Session!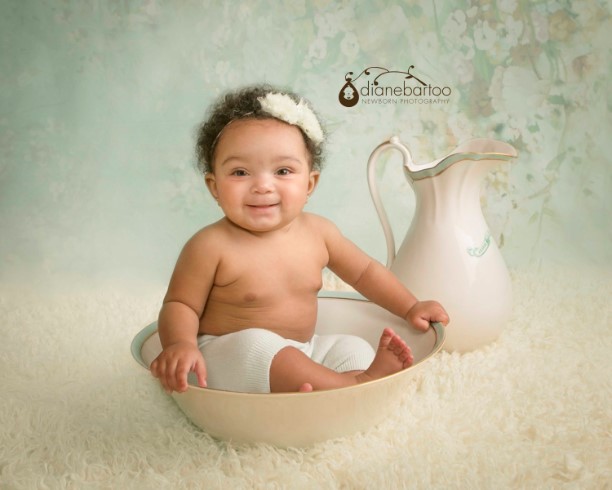 Your sweet baby is sitting up at 6 months and your world is full of sweet smiles and huge giggles. Patty cake is a favorite game and your baby is full of wonder. This is a perfect time for 6 month baby pictures,  since baby is sitting up we are able to add quite a few different props and sets. This is a super fun time with endless possibilities. Baby can dressed in fancy attire or have nothing on at all. Bring her fresh from a nap and be ready to have some fun. This is a great time to take a few portraits of your changing baby. 
Offering baby milestone sessions, maternity and newborn photography, watch me grow sessions for families in the Inland Empire, Riverside, Corona, Norco, Chino, Eastvale, Moreno Valley and surrounding cities. 
Call (951) 389-4749 or email diane@dianebartoo.com for more information or schedule your appointment.
Like us on facebook 
See more milestone images at www.baby.dianebartoo.com
Looking forward to seeing you soon,   
Love,  Diane
diane@dianebartoo.com 
(951) 389-4749 
Riverside Newborn Photographer | HOME 
Riverside Newborn Photographer | FACEBOOK